Mike Wiggins is a native of Alabama. He attended the University of Mobile, New Orleans Baptist Theological Seminary and Mid-America Baptist Theological Seminary where he earned the Bachelors, Masters and Doctor of Ministry degrees. Mike and Cindy have been married since 1975. Cindy is also a graduate of the University of Mobile and is a retired elementary school teacher. Mike and Cindy have two children. Michaela and her husband, Michael Bush, have two sons, Gavin and Logan; they live in Milton, FL. Their son, Chayce, his wife Ashley, and son Finn live in Milton, FL.
Mike has served churches in Louisiana and Alabama before coming to serve as the Senior Pastor at Pine Terrace in 1987. He is an avid fan of college football, especially the University of Alabama.
A native of Alabama, Justin attended Samford University, earning a Bachelor of Arts in Religion with a Concentration in Congregational Studies. While serving in churches from Alabama to Florida, Justin continued his education and received his Masters of Divinity and Doctorate of Ministry from New Orleans Baptist Theological Seminary. Since accepting the Lord's call into ministry, Justin has served in many areas of church leadership and continues to seek new ways to reach those he has been called to serve. Justin is married to Amy and they have three children; Jackson, Colson and Madison. Together, Justin and Amy have committed their lives to helping people find and grow a personal relationship with Jesus Christ. Reaching and serving the world through ministries inside the church and outreach opportunities is a way of life for Justin and his family. He strives daily to serve God by loving God's children.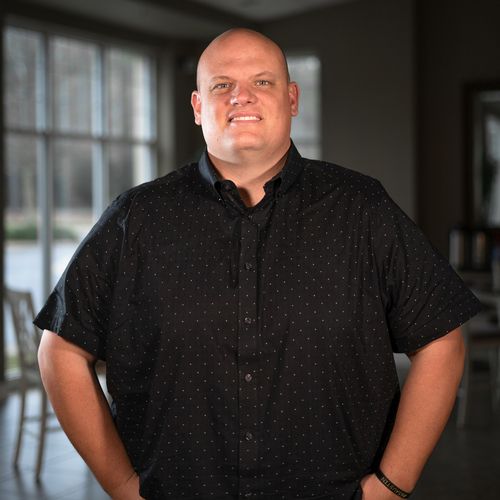 Tommy is a native of Alabama and a graduate of the University of Mobile, where he met his wife, Shana. Tommy and Shana have been married since 1990 and have two daughters, Madison and Meagan. Madison is a sixth-grade English teacher and is married to Trey. They live in Mobile, Alabama. Meagan attends the University of West Florida, majoring in History, and desires to teach high school and coach volleyball. She will graduate in May 2021. Tommy has been a worship pastor for more than twenty-five years in Alabama, Louisiana, and Florida. He is passionate about leading people to experience God through music. Tommy is an ardent fan of the University of Alabama athletics.
DIRECTOR OF CREATIVE ARTS & COMMUNICATIONS | YOUNG ADULTS PASTOR
Gunter was born and raised in Milton, FL. Gunter graduated from Milton High School in 2013 and attended the University of Mobile before being called into full-time ministry. Gunter currently holds a B.S. degree in Theology and Church Ministry from Liberty University's Rawlings School of Divinity. Gunter accepted the call into worship ministry at a young age and since, also developed a passion for excellence, creative arts, communications, and teaching God's Word . Gunter and his wife, Rachel, married in September of 2017. They have a daughter, Lauren who was born in November of 2019. Together, they have committed their lives to serving and encouraging others. In his free time, Gunter enjoys playing music, writing songs, sports, fitness, all things outdoors, and spending time with family.
Justin desires to see middle and high school students know and enjoy Jesus. He hopes to partner with families to raise up radical, lifelong, reproducing followers of Jesus. Justin is from Fort Walton Beach, FL. He studied Communications at the University of West Florida and completed a Masters of Divinity at Southern Seminary. Justin moved to Fort Collins, CO in 2019 to help start a new church. He enjoys reading, music, coffee, and most board-sports. Justin dreams of planting a church one day.
Shelley was born and raised in Repton, Alabama. After graduating from Repton High School, she continued her education at Alabama Southern (formerly known as Patrick Henry State Jr. College). Shelley has experience teaching and working with children through her years of working as a paraprofessional in the public school system and serving on the Preschool and Children's Leadership team for the Florida Baptist Convention. She has volunteered in many different capacities and has been a key leader in organizing children's events and training leaders throughout the state. Shelley's heart is for all children to learn to be more like Jesus and know the truth of God's Word.
Shelley and her husband, Robby, were married in 1991. They love spending time with their children, Karlyn and Jacob, and their son-in-law, Tyler. When Shelley is not serving at church, she enjoys baking, learning about history, and watching football.
Angela was born and raised in Neosho, Missouri. She is a military wife that has spent several years teaching and serving children. She is very creative with an educational background in childcare, art design, photography, and floral design. Angela uses her creativity and artistic background to bring Bible stories to life through skits and games. She is married to Justin. Together they have 3 children, Carter, Colton, and Caroline Rose. When she is not at church serving, she enjoys spending time with her family and going to the beach.
SUPPORT STAFF & ADMINISTRATION
PUBLICATIONS & GRAPHIC DESIGN