Daniel grew up in Atlanta, Georgia and Danville, Kentucky. After being saved at six years old, Daniel knew from an early age that God had called him to ministry. At 18, he began pastoring his first church. Over the past 20-plus years, Daniel has pastored churches in Kentucky and Alabama. Currently, he is the State Evangelism Director for the Alabama Baptist State Board of Missions. His education includes a Bachelor of Arts and Master of Theology from Campbellsville University, a Master of Theological Studies from Southwestern Baptist Theological Seminary, a Master of Divinity from Luther Rice Seminary, and a Doctorate in Expository Preaching from Trinity Theological Seminary. This summer, he will complete his Doctor of Philosophy from the University of the Cumberlands.

Daniel is married to Erin and they have two sons, Samuel and Timothy. Daniel is a big baseball fan (especially the Dodgers and the Braves). He also enjoys reading and doing yard work.
Dr. Ray Summerlin began serving at Pine Terrace Baptist Church on February 20, 2022 as the Interim Executive Pastor. Ray and Beth were members of Pine Terrace Baptist Church from 2008 to 2014. Pastor Ray served the last two years at Pine Terrace as an Associate Pastor.

Born in Rota, Spain, Ray grew up in a Marine Corps family and has experienced living around the world. Pastor Ray earned his bachelor's degree in Education from Auburn University in 1986. In 1998, he went on to earn a Master of Divinity degree in Christian Education and Biblical Languages from Southeastern Baptist Theological Seminary in Wake Forest, NC. In 2012, he earned his Doctor of Education degree from Southeastern Seminary as well.

Ray has served in various roles over the course of his ministry. He has served as a Vice President of a Baptist University, a Navy Chaplain, and in five different churches in North Carolina and Florida. Ray has extensive military service as well. He was commissioned and served in the United States Marine Corps as an Infantry Officer from 1986-1999 and obtained the rank of major. Later, after surrendering to the call of ministry, he served in Navy Chaplain Corps from 1999-2012 retiring from Naval Service in 2012 after serving as the Command Chaplain at Naval Air Station Whiting Field in Milton, Florida.

Pastor Ray is married to Beth, his wife of 35+ years. Dr. Beth Summerlin is currently serving at LEAD Academy as their Academic Guidance Counselor. They are blessed to have three adult children: Timothy (wife - April), Mary Lunsford (husband - Weston, granddaughters - Avery Grace and Rylee Elizabeth), and Andrew (wife - Betsy).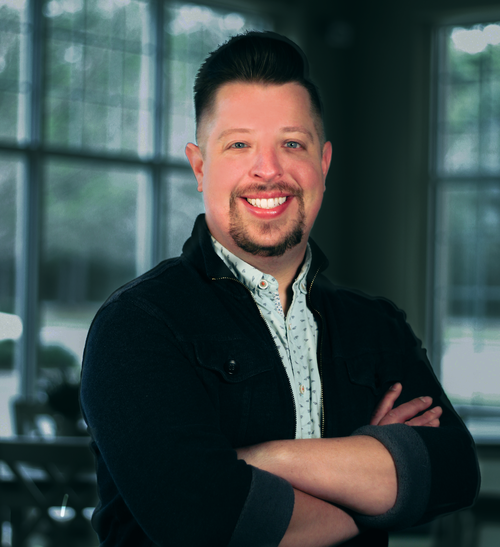 David was born in Ruston, Louisiana, but has called many places "home" with his family over the years. He graduated from the University of Oklahoma after enjoying being a member of a number of musical ensembles from choirs to bands. He has since studied in the Masters of Arts in Worship programs at both Southwestern Baptist Theological Seminary and Liberty University.

Over the last nine years of ministry, David has served churches in Florida, Georgia, Kansas, and Texas. David served as the Worship Pastor of Pine Terrace Baptist Church from 2013 to 2014. He is married to Sally and they have one daughter, Emmy, who will proudly tell you she is five! While not serving the Lord in the local church, David enjoys saltwater fishing, golfing, writing and recording music, and putting together puzzles as a family.
Matt was born and raised in Rochelle, Illinois. In 2014 he graduated from Hannibal-LaGrange University, in Hannibal, Missouri with a Bachelors of Arts in Business Administration. In December 2018 he graduated from Midwestern Baptist Theological Seminary in Kansas City, Missouri with a Master of Divinity.

Matt first served as a youth ministry volunteer at Southside Baptist Church in Hannibal, Missouri before being hired as the youth pastor from 2013 - 2017. Matt also served as the Director of an Upward Flag Football and Cheerleading league for 4 years, overseeing coaches, referees, volunteers, and players.

Matt worked at Hannibal-LaGrange University as a Resident Director over two men's dormitories. He supervised and discipled students serving in the position of Resident Advisors (RA's) and organized multiple mission trips with NAMB church plants.

Currently, Matt is the middle school and high school Bible teacher at L.E.A.D. Academy. He has worked at L.E.A.D. for four years and began as a fourth grade teacher.

Matt is married to Virginia, and they have twin toddlers, Hannah and Thomas. Matt enjoys spending time with family and golfing.
Shelley was born and raised in Repton, Alabama. After graduating from Repton High School, she continued her education at Alabama Southern (formerly known as Patrick Henry State Jr. College). Shelley has experience teaching and working with children through her years of working as a paraprofessional in the public school system and serving on the Preschool and Children's Leadership team for the Florida Baptist Convention. She has volunteered in many different capacities and has been a key leader in organizing children's events and training leaders throughout the state. Shelley's heart is for all children to learn to be more like Jesus and know the truth of God's Word.
Shelley and her husband, Robby, were married in 1991. They love spending time with their children, Karlyn and Jacob, and their son-in-law, Tyler. When Shelley is not serving at church, she enjoys baking, learning about history, and watching football.
Angela was born and raised in Neosho, Missouri. She is a military wife that has spent several years teaching and serving children. She is very creative with an educational background in childcare, art design, photography, and floral design. Angela uses her creativity and artistic background to bring Bible stories to life through skits and games. She is married to Justin. Together they have 3 children, Carter, Colton, and Caroline Rose. When she is not at church serving, she enjoys spending time with her family and going to the beach.
SUPPORT STAFF & ADMINISTRATION
FINANCIAL ADMINISTRATIVE ASSISTANT
GRAPHIC DESIGN & PUBLICATIONS